This is the third blog in our series on workshop jargon. Diesel Particulate Filters (DPF) are fitted in all diesel cars to reduce pollution to our environment. The DPF is fitted to the exhaust pipe and traps soot particles emitted from the engine. Like all filters they need to be emptied every now and again and in the case of DPFs this is called regeneration.
Basically when the filter reaches a high enough temperature the soot is burnt off to leave a small ash residue. These high temperatures can only be achieved on long journeys or with a certain driving style. Not all people with a diesel car are driving enough long distance journeys to allow the DPF to reach an adequate temperature to regenerate. This means that over a period of time of short journeys or 'stop-start' driving the filter becomes blocked.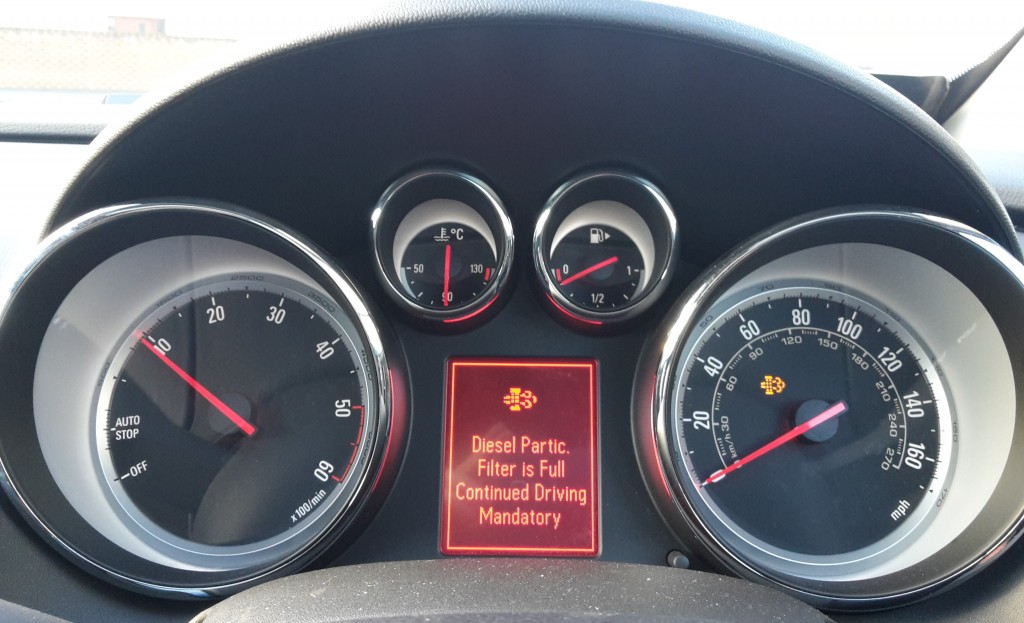 When this happens a warning light is displayed on the dash. This is not a breakdown situation; it is just the car telling you that it needs to have its filter emptied. All diesel cars will have a section in the Manufacturers handbook to explain Diesel Particulate Filters and what to do when the filter becomes saturated. Here are a couple of examples from 2 manufacturers.
This is an example of what Vauxhall say in one of their handbooks:
"The system includes a self-cleaning function that runs automatically during driving without any notification. The filter is cleaned by periodically burning off the soot particles at high temperature. This process takes place automatically under set driving conditions and may take up to 25 minutes. Typically it needs between 7 and 12 minutes."
"Under certain driving conditions eg short distances, the system cannot clean itself automatically. If the cleaning of the filter is required and if previous driving conditions did not enable automatic cleaning, it will be indicated by DPF control indicator on the dash."
"To activate the cleaning process, continue driving, keep engine speed above 2000 revolutions per minute. Shift down if necessary."
"The DPF indicator extinguishes as soon as the self-cleaning operation is complete."
If the DPF light does not go out or other dash warning lights appear your car needs to be seen by a mechanic.
This is an extract from a Seat handbook:
"If the driving conditions do not allow the filter to clean itself (eg multiple short trips) the filter will be obstructed and the indicator for diesel engine particulate filter will light up. This does not represent a fault, it is a warning that indicates that the filter has not been able to regenerate automatically and that you must carry out a cleaning cycle."
"To do this, drive about 15 minutes in 4th or 5th gear (automatic gearbox: S gear range) at a speed of 60km/h with the engine running at approximately 2000 rpm. This increase in temperature will burn off any soot in the filter. When cleaning is successful, the symbol switches off."
"If the symbol does not turn off, or the three lamps turn on (particulate filter, emission control system fault and heaters) take the vehicle to a specialised workshop to carry out a forced regeneration."
These guidelines are specific to a Seat and Vauxhall vehicle so it is important that you check your handbook for instructions specific to your own car.
Diesel Particulate Filters (DPF) regeneration in diesel cars.
DPF regeneration is perfectly normal in diesel cars, here are a few symptoms that can occur during regeneration:
Cooling fans running
A hot, acrid smell from the exhaust
A change to the sound of the engine
Diesel Particulate Filters are found in most diesel cars from 2009 onwards to meet European Emissions Standards. Here at McAfee Cars Ballymena we get asked questions regularly about Diesel Particulate Filters (DPF), what it is and how it works, so hopefully this should help you understand a bit more about it. If you're interested in finding out more about what's under the bonnet and how your car works, you can read our 2 previous workshop jargon blogs (part 1 here & part 2 here)